'People protect what they love'
Jacques Yves Cousteau




Dutch website
ABOUT US

Right now a small team is working hard to formalize the organisation and prepare a proper plan to realize this new initiative from scratch.

The people involved are all aware of the heavy polution of our planet and the nature that is in great danger. They decided that there should be a place where you can work on drawing up a proper conservation plan and where you can find professional support.

The Conservation Academy will start as an organisation that initiates events for conservationists, and has the ambition to realize it own campus in The Netherlands.


WHAT THE CONSERVATION ACADEMY WILL DO

KICK OFF AND SUPPORT OF PROJECTS

Conservationists 'protect what they love'. They have a passion for a certain place on earth or specie that is in great danger.
However, most of them are not experienced 'project managers' or 'entrepeneurs'. And as a matter of fact: starting up and working on a conservation project is verry similar to running / managing a project or company!

The Conservation Academy is there to support conservationists to make a proper plan, check it on risks and feasibility. And a project needs funding, so conservationists are supported in finding the funds for their work.
And, while the conservationists working in the field, the Academy monitors the progress of the project and can support when there are, for example, health-, management-, technical- or legal problems.



GET INVOLVED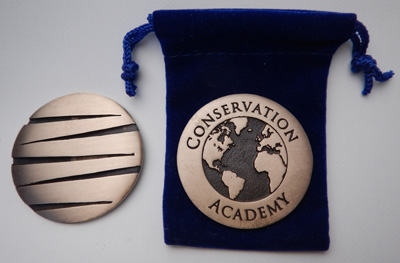 ALS FOUNDER:
Do you want, like us, to support the conservationists to protect our nature?

Become a founder of the Conservation Academy: buy (€ 100,-) the unique Conservation Academy coin, made of solid bronze. Keep it for yourself, give it as a present to someone or...offer it to the Conservation Academy again after a while!

The special coin was produced by the American artist Roland st. John, known from the great ocean related jewelery at www.searaden.nl

There were just 100 coins produced, so this will be a collectors' item soon!

Send us a email when you want to support and buy the coin. You can find the email adress below.


AS A VOLUNTEER:
Do you want to support the Conservation Academy with your knowledge? You want to invest some time & energy by helping the Conservation Academy and their conservationists forward?
We are, first of all, looking for volunteers who can assist helping to start up the organisation, find the right location for the campus and raise funds to get it all realized.
Are you living in The Netherlands and willing to invest some time in this initiative? Please send us an email and tell us how you like to support & join us.


NEWS

Do you want to be updated about the start up of the Conservation Academy?
Just send an email (see email address below) with your name, email address, where you live and that you like to receive the news updates (updates will be published about once in two months).